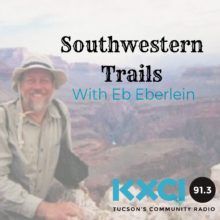 The Santa Cruz River Trail between Congress St. and Speedway BLVD. in Tucson is a very nice 2 mile loop.
Join the Southwestern Trails Community and find more content at Southwestern Trails on KXCI on Facebook. https:///www.facebook.com/SouthwesternTrailsonKXCI
---
TAGS
bird watching
,
Congress St
,
Santa Cruz River Trail
,
Speedway Blvd.
,
urban wildlife
,