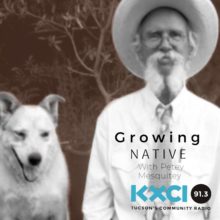 I meant to talk more about the leaves of Physocarpus monogynus. They resemble the leaves of a currant or a raspberry…I said that, but they are crenate…actually doubly crenate. So, crenate means a toothy leaf margin and doubly crenate means the teeth have teeth. When you find this beautiful shrub high in a coniferous forest you can say to anyone who will listen, "look at those doubly crenate leaves." You are cool!
And, what is it about the common name mountain nine bark that strikes a chord with me? It sounds so wild and wonderful. "Call me Mountain Nine Bark!" I shouted from my teepee at our commune in the hills. Oh yeah.
The photos are mine.
---
TAGS
Growing Native
,
KXCI
,
mountain nine bark
,
Petey Mesquitey
,
Physocarpus monogynus
,