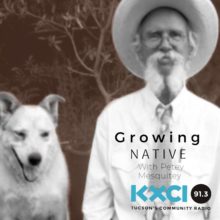 There are a dozen species of Melampodium and I wonder which one Linnaeus was looking at when he honored Melampus with the genus name. And, I wonder when the genus name started being misinterpreted to mean blackfoot and not honoring the mythological soothsayer.
Anyway, another cool thing about Melampus, besides him being a legendary soothsayer was that he was "reputed to understand the speech of all creatures." My kind of guy…er, god. So, a fun discovery for me in an old paperback booklet of plant names.
Lemme see…oh, if you are interested in other plants named from Greco-Roman mythology (not me, of course), the book Gods and Goddesses in the Garden by Peter Bernhardt is a fun read and though Melampus isn't mentioned, there are plenty other mythological characters and botany through out. Yay!
!
The photos are mine. I'm always sticking my hand in photos for some scale. And, the little purple flower peeking through is the wonderful Allionia.
---
TAGS
blackfoot daisy
,
Growing Native
,
KXCI
,
Melampodium leucanthum
,
Melampus
,
Petey Mesquitey
,