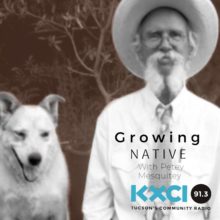 I forgot to say that false solomon's seal was formerly in the family Liliaceae, but is now in Asparagaceae. There are 2 subspecies of Maianthemum racemosum. The subspecies out here in the mountainous forests of the western U.S. is amplexicaule, so it reads like this: Maianthemum racemosum subsp. amplexicaule. Yay! And between the 2 subspecies this plant can be found all over North America…all over…and into a bit of northern Mexico. So where ever you are, look in the rich damp soil of a mountain forest under story.
And doesn't "rich damp soil" sound glorious? It almost makes me want to create a forest garden with that kind of soil and shade here at our place. Nah, I think I'll just enjoy seeing this beautiful native in habitat.
The photos are mine and taken on the day described in this episode. Do you see the maple leaves?
---
TAGS
Asparagaecce
,
false solomon's seal
,
Growing Native
,
KXCI
,
Maianthemum racemosum
,
Petey Mesquitey
,