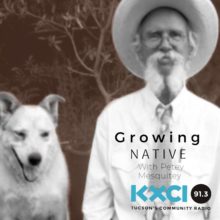 I started my nursery/horticulture career in the spring of 1980 at Desert Trees Nursery northwest of Tucson. It was and still is a wholesale nursery that grows and sells to folks in the trade. The popular verbenas we grew then were South American cultivars with names like Peruvian Red or Trailing Bubblegum…short-lived ornamentals…ugh. We also grew a weedy verbena called Verbena tenuisecta and that's still in the trade, but as Glandularia pulchella. Pretty plant, but again, a native to SA. I think it was Mountain States Nursery out of Phoenix that started growing and selling the native Goodding verbena back then AND that's who Ms. Mesquitey and I were contract growing 5,000 verbenas for a dozen years later.
Goodding verbena (Glandularia gooddingii) is a beautiful native verbena with a sweet wild fragrance. Stick your nose in the flowers and you'll catch yourself saying, "Oh my, the desert is beautiful." Yeah, it is.
The photos are mine of the seedlings I came across by our barn…scruffy and small, but still with the floral fragrance to die for.
---
TAGS
Glandularia gooddingii
,
Growing Native
,
Petey Mesquitey
,
Verbena gooddingii
,