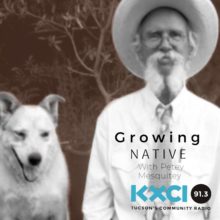 This episode of Growing Native is a rambling reminiscence about amphibians and reptiles. With the monsoon starting up here in the borderlands I think we're going to be seeing some of those. Yay!
The Sonoran Desert Toad formerly the Colorado River Toad is Incillius alvarius….formerly Bufo alvarius. As near as anyone can figure Incillius means ditch or trench and alvarius may refer to its large abdomen. Maybe the common name could be the tubby tummied ditch toad, but I think Sonoran Desert Toad is an excellent name. And, a duded up toad was the logo for the Tucson band The Dusty Chaps.
The photos are mine of some very handy field guides and of The Dusty Chaps' logo from an old album sleeve.
---
TAGS
Bufo alvarius
,
Growing Native
,
Incillius alvarius
,
KXCI
,
Petey Mesquitey
,
Sonnoran desert toad
,