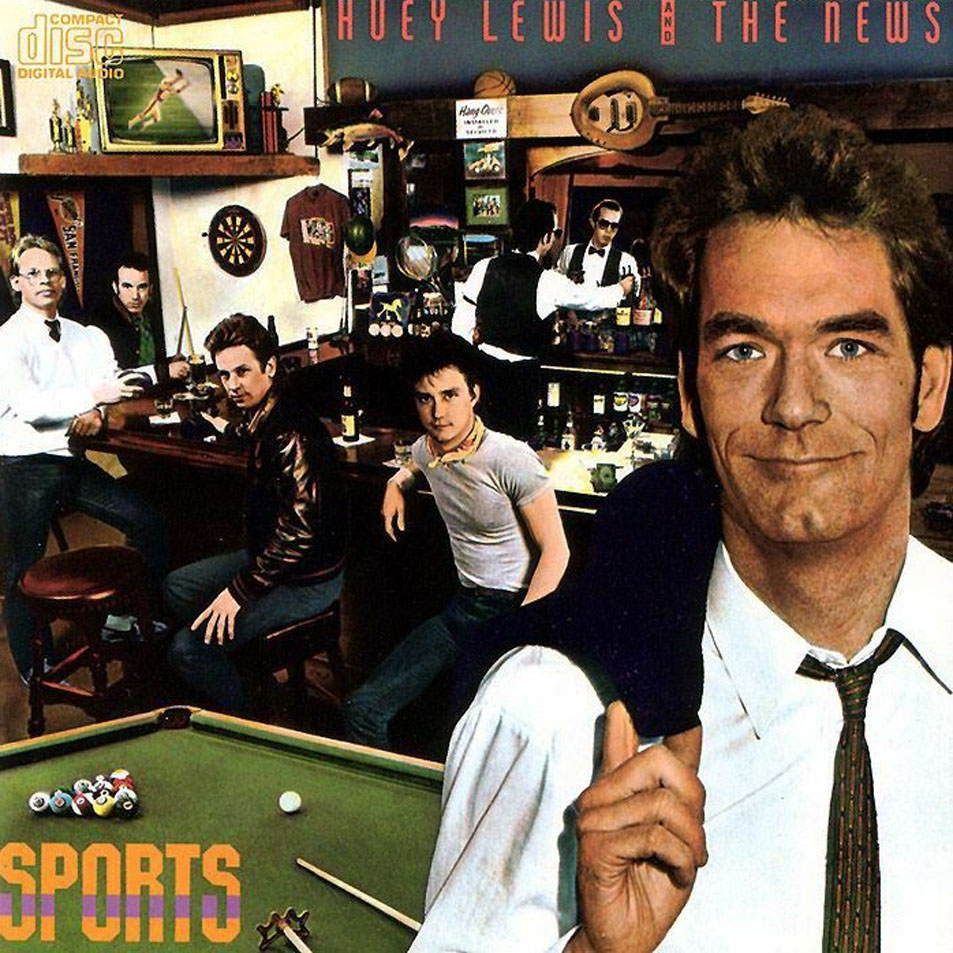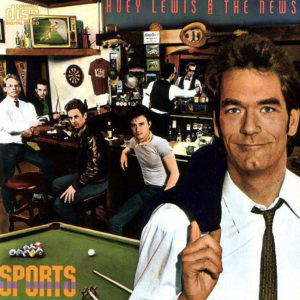 The Classic Pick is a weekly feature at 4 p.m. Monday-Friday on The Home Stretch, sponsored by the Good Oak Bar and curated by Kris Kerry. Each Monday at 4 p.m. Kris stops by KXCI's studio to give us insight on this classic album at 91.3 FM and  KXCI.org. 
HUEY LEWIS & THE NEWS – SPORTS
Released September 15, 1983 – 33 years ago
The third release by Huey Lewis & The News was a gargantuan commercial success, propelling them to internationally stardom.  Nearly all the tracks on this self-produced album are pop gems, featuring instantly memorable hooks, with no less than five of these nine songs becoming top 20 Billboard hits – four of them top 10 hits!
Interesting info:
Huey Lewis & The News, a San Francisco based band that formed in 1980, was essentially a bar band with a simple, straightforward rock & roll style influenced by British pub rock, 60s R&B, and doo-wop. At its core, the band was a "working band," and as such most of their songs dealt with day-to-day issues, nine-to-five jobs, and sports.
Huey Lewis & The News began as an early 1970s country-rock/blues-rock band called Clover. They mostly played bars and small clubs around San Francisco. Upon the urging from Nick Lowe, who believed they could fit into the UKs pub rock scene, Lewis and the rest of Clover moved to the UK in the mid 1970s.  In a short time, Clover cultivated a small fan base, and Lowe produced the band's first single, "Chicken Funk."
Huey Lewis and the rest of Clover were earning a reputation as great musicians through out the UK.  While there Lewis, who is a amazing harmonica player, played on Nick Lowe's album, Labor of Lust, and a handful of other albums. He also toured with Thin Lizzy for a while, and is even featured on their live album, Live and Dangerous, where Phil Lynott introduces by name. Additionally, Clover minus Lewis was the backing band on Elvis Costello's debut recording, My Aim Is True.
Polygram released two Clover albums that did not sell very well, and when one of their key members left the band to join The Doobie Brothers in 1979, the rest of the band returned to the Bay Area. The remnants of Clover added new band members and dubbed the new band American Express. American Express was soon offered a contract by Chrysalis in 1980 who requested the band change its name, and Huey Lewis & The News was born.
Huey Lewis & The News self-titled debut received little attention, but the band's sophomore release, Picture This (1982), produced two top 10 singles, "Do You Believe In Love," and "Workin' for a Livin'."
Sports was released in 1983, and grew in popularity slowly, with the band starting their tour playing smaller clubs. Despite lukewarm reviews by critics, the record grew into smash hit by mid 1984, eventually becoming a 7x platinum album with five top 20 singles. To date, Sports has sold over 10 million copies.
Part of the bands success is likely due in part to a series of clever videos that received heavy MTV play, a very new phenomenon at the time.
Recorded at three Bay Area studios, Fantasy Studios, The Record Plant, and The Automatt, Sports is self-produced by Huey Lewis and the rest of the band. Many well known artists have been recorded at these three studios, including Journey, Creedence Clearwater Revival, Green Day, Sly Stone, Rod Stewart, The Gap Band, Alice Cooper, Santana, Herbie Hancock, The Clash, Van Morrison, Aretha Franklin, Captain Beefheart, New Order, and Blue Öyster Cult among many others.
Huey Lewis & The News were intentionally aiming to produce radio hits. In the early 1980s the music industry was radio-driven, with the only real avenue to success was a hit record. Lewis has said in interviews that the album "was a collection of singles," and " we unabashedly aimed five… tracks at radio."
The cover art for Sports features a photo of the band at the 2 AM Club, a small bar in Mill Valley, California where the band played often early in their career.
Following Sports, Huey Lewis & The News went on to record "The Power of Love" and "Back in Time," featured in the 1985 film Back to the Future. Their fourth studio album, Fore! (1986), was also very successful, selling over three million copies and producing several singles.
Huey Lewis has a cameo in Back To The Future, playing a nerdy teacher that tells Marty McFly "they are just too darn loud" to participate in the high school battle of the bands.
Four band members have been in the group since the beginning and are still members to this day. They are Huey Lewis (vox, harmonica), Sean Hopper (keys), Johnny Collo (guitar), and Bill Gibson (drums).
The band continues to tour regularly, playing around 70 dates per year.
All together, Huey Lewis & The News have sold over 30 million records worldwide, have won one Grammy award, and been nominated for three additional Grammys. They are not in the Rock and Roll Hall of Fame, but have been eligible since 2005.