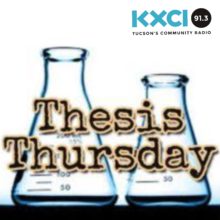 Sarah Van Glubt is a PhD student working with Dr. Mark Brusseau in the Soil, Water, and Environmental Science program at the University of Arizona. She is studying the behavior and transport of PFAS (per- and poly-fluorinated alkyl substances) in soils and groundwater. These are human-made chemicals that commonly contaminate the environment and have some concerning human health impacts.
Before coming to the U of A, Sarah got her master's and bachelor's degrees in Environmental Engineering at Portland State University. It was there that she discovered understanding the environment with math and science is fun! Her thesis project included water quality modeling of a river in Washington.
Sarah's experience growing up in the Northwest and her many travels have instilled in her a deep respect and responsibility toward the environment. When she's not in the lab, she's probably reading, biking, hiking around, traveling, or petting her incredibly cute dog.
---
TAGS
KXCI Community Radio
,
Sarah Van Glubt
,
Thesis Thursday
,
U of A
,