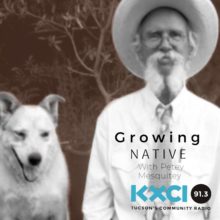 It's a little bit of a leap from talking about a plant in the aster family to talking about Senna in the pea family. It's the way my mind was working at the time I guess.
Senna species are found around the world. If you were to purchase the herb senna in a store or online it would probably be derived from Senna acutifolia, native to Sudan, Egypt and cultivated in parts of India. Our native sennas are also medicinal, though the strength may vary from species to species. Writing about slenderpod senna (or slimpod senna, but always Senna hirstua var. glaberrima), herbalist Michael Moore says "First, last, always, a laxative." And friend Charlie Kane writes of the same species, "Senna is a straightforward stimulant laxative." Okay.
In the borderlands of Arizona and Sonora our native species can be summer showy. The bonus is some are found in cultivation, as in your favorite nursery.
The photos are mine.
---
TAGS
Fabaceae
,
Growing Native
,
KXCI
,
Petey Mesquitey
,
Senna hirsuta var. glaberrima
,