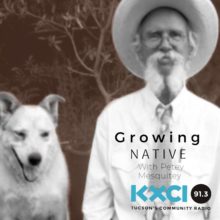 Searching our pantry and chest freezer has been quite an adventure. We've even found some unlabeled items in the freezer. "What do you suppose that is?" I query. "Hmm, maybe the chickens would like it." It kind of reminds me of how I cooked when I was a kid and my mom wasn't around. I would open various cans of food, mix them all together and call it lunch. Vienna sausage, baked beans and olives. Yum.
The genus for spectacle pod in your old, but still wonderful Arizona Flora, is Dithyrea. It is now Dimorphocarpa.  Also, if ethnobotany is your thing, then this might be a fun plant to look up. Meanwhile, I'm going to go back to the Dos Cabezas Mountains to collect some of those interesting pods that look like tiny eye glasses and scatter them around our place this fall.  I'll let you know how that went next spring.
The photos are mine of the plant and flowers and pods.
---
TAGS
Brassicaeae.
,
Dimorphocarpa wislizeni
,
Dithyrea
,
Growing Native
,
Petey Mesquitey
,
spectacle pod
,