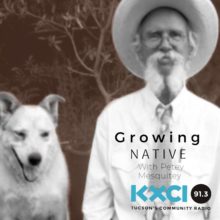 It was the American botanist Soreno Watson, that named the onion collected in Tanner's Canyon of the Huachuca Mountains to honor Sara Plummer Lemmon. He made no mistake who it honored by using her maiden name, Allium plummerae.
Common names of this borderlands native are Tanner's Canyon onion, Plummer's onion or around our place we call it Sara's onion.
I thought I had some photos of Sara's onion (Allium plummerae) taken at Onion Saddle in the Chiricahuas, but I couldn't find them. (Why do I think they are 35 mm slides?) Instead I offer the cover of the book The Forgotten Botanist by Wynne Brown. It's recommended reading.
---
TAGS
Allium plummerae
,
Growing Native
,
Petey Mesquitey
,
Plummer's onion
,
Sara Plummer Lemmon
,