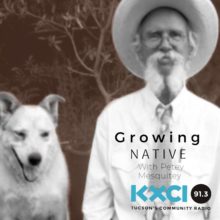 June is the season of soaptree yuccas blooming and at our little homestead and all along the borderlands there are flowering Yucca elata. It's a good reason to get out into the deserts…as if you need one.
And, while you're out there look for pale wolfberry. It's pretty hard to miss after it leafs out in the early spring, then flowers and fruits. Many times you'll find it in small thickets as it does spread from its roots.
There are ten species of wolfberry around Arizona and most if not all of them have considerably sweeter fruit than pale wolfberry. I'm thinking I"ll be a marketing king if I can sell Lycium pallidum as southwestern goji berry. "Big and Bitter!" could be a pretty cool slogan.                                                                                                                                                                                                                  The photos are mine.
---
TAGS
Growing Native
,
KXCI
,
Lycium pallidum
,
pale wolfberry
,
Petey Mesquitey
,