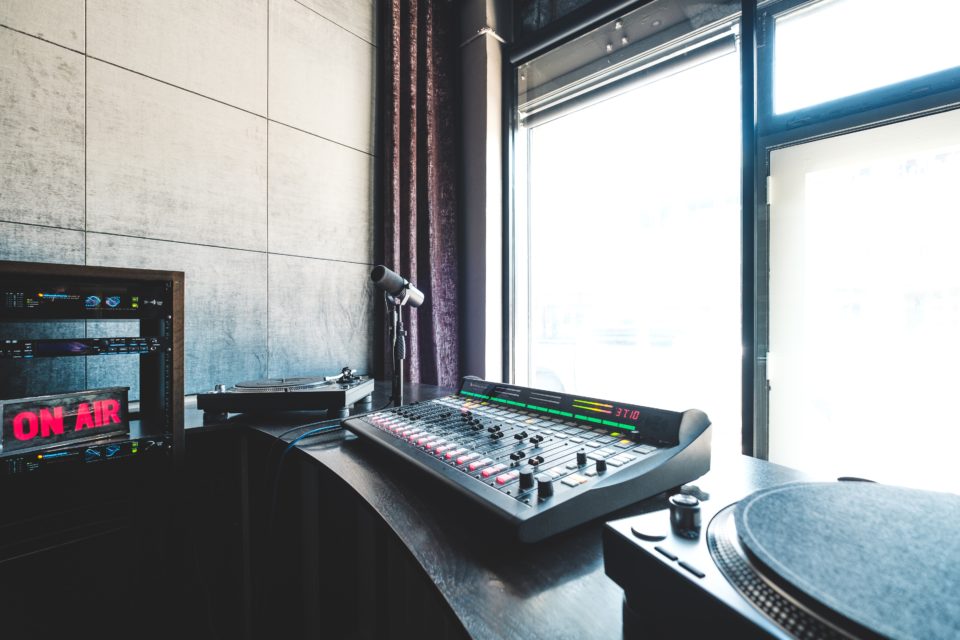 On Labor Day weekend, KXCI Community Radio unveils its new studio in Hotel Congress, with an open house and "Load The Library of Congress" party, Saturday, September 2 and Sunday, September 3, from 10:00 a.m. to 6:00 p.m.
Members of the public are encouraged to come explore the station's new downtown facility, and help build the Congress studio's music collection by donating a new or gently-used copy of a favorite CD or album.
"We've been working towards this dream of opening a studio in the heart of downtown for over three years now, and I'm thrilled to finally be open for business," says KXCI Executive Director Cathy Rivers. "This studio will allow the KXCI community and Tucson visitors to get even closer to the music, podcasts and mini-programs that make our community radio station so special. It will also create more opportunities for special broadcasts, out-of-town guests, and additional in-studio videos."
"This partnership is a great fit, because Hotel Congress and KXCI are both committed to nurturing our music community," adds David Slutes, Entertainment Director for Hotel Congress. "Being able to see that on-air DJ – right at street level – offers tangible evidence of how crucial music is to Tucson, and the new studio adds something special to the vitality of downtown."
This new auxiliary studio is located in the Hotel Congress lobby, directly across from the Copper Room, with windows looking out on Congress Street. Just steps away from both Club Congress and the Rialto Theatre, the convenient location will allow KXCI to welcome more touring musician to the airwaves.
"KXCI is the heartbeat of Tucson," says Joey Burns of Calexico. "The addition of the KXCI studio at historic Hotel Congress will enable even greater connections between audiences and artists, like live performance broadcasts, special videos, and more in-depth interviews. As a community, it feels like we're turning a corner, and it's exciting to see – and hear – KXCI growing as a part of that."
The new studio was designed by Tucson firm Baker + Hesseldenz, with an emphasis on showcasing the tradition of independent radio, while also complementing the Hotel Congress aesthetic.
"We wanted to create a space that felt dark, cool, and comfortable, in homage to radio and recording studios of the '50s and '60s," says Scott Baker. "And since people will be watching the on-air talent and guests, we brought in an element of theater as well."
"This is perfect timing for KXCI," adds Mary Ann Hesseldenz. "We live in such a visual society now. People today want – and expect – a fuller experience, and the increased visibility of KXCI downtown can help them reach a new generation of listeners."