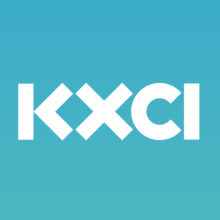 Thanks for visiting KXCI's Locals Only – Tucson, AZ.

We're coming at you this week with another live, in-studio performance from Tongs! They are joining us in Studio 2A for an hour of music and conversation. The show is hosted this week by Matt Milner.
A little bit about Tongs:
Tongs is made up of what is, essentially, a synth-heavy rhythm section.
Personnel include:
Keyboard – Chris Peña
Bass – Chris Pierce
Drums/Percussion – Tom Beech
If you see a lot of live shows Downtown, you may recognize band member Christopher Pierce as the bassist with bright red beard in what seems like a million different Tucson bands. Pierce and his Steff and the Articles band mate, drummer Tom Beech, have been jamming together for years, so when their old Phoenix acquaintance keyboardist Chris Peña moved to town, it was pretty inevitable that the three would play together.
Tongs is a rarity in our indie rock heavy local music scene in that they are an all-instrumental live band. Peña's keyboards build the base of the band's melodies with a novel sound that's equal parts synth rock and piano jazz while the Pierce and Beech pile on the soul, funk as they finally breaking free from the lonely shadows of backing band rhythm section anonymity. In a landscape where anything with a synth gets automatically labeled "electronic music," Tongs' keys laced but low end heavy fusion based sound stands out. Which is why the band kind of defies labeling. That being said, at the heart of it all is the groove.
This live performance wouldn't be possible without the volunteers who help us wrangle all of those angry pixies through the wires, tubes, and airwaves!  Thanks goes out to:
Live Audio & Video Engineering by:
Duncan Hudson
Ben Holman
Wallace Schubach
Walter Harrington
Bjorgvin Benediktsson
Post-production editing and web page by:
Dominic Castelli
Remember to visit the Locals Only website weekly to catch another great performance by one of our great local musical artists. 
---
TAGS
KXCI
,
Live Music
,
Local Music
,
Locals Only
,
Tongs
,
Tucson
,