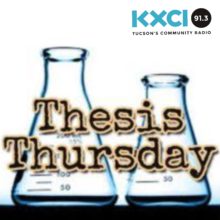 Hi Everyone! My name is Alyssa Sullivan and I am a senior undergraduate student in the Honors College at the University of Arizona. I am studying Neuroscience and Cognitive Science and I am completing a minor in psychology. I have worked in three different labs during my time at the University of Arizona, including Dr. Stephen Cowen's Decision-Making and Learning Lab, Dr. Connie Beck's Psychology, Policy, and Law Lab and Dr. Rebecca Gomez's Child Cognition Lab. This summer UBRP gave me the opportunity to work full time in Dr. Gomez's lab and begin my thesis. My thesis is investigating the learning strategies 5-year-olds use to remember groups of objects. I am also currently applying to Clinical Psychology PhD programs and hope to begin in the fall of 2018. In my spare time I like to go to farmer's markets, cuddle with my dog Jack, and watch This is Us.
---
The University of Arizona's Undergraduate Biology Research Program is partnering with KXCI 91.3 to produce "Thesis Thursday," a weekly segment featuring student researchers talking about their undergraduate thesis projects, or research projects while working with University professors. Students describe their research, their overall goals and career interests and where they thinEditk their research will lead. They also get a chance to share their music and interests that motivate them.
Broadcast three times every Thursday with a new student each week.
Thursdays: 9:55 AM, 11:55 AM, and 2:55 PM
Created by Cathy Rivers, produced by Bridgitte Thum.