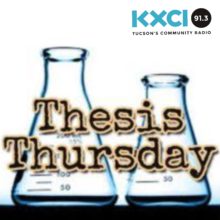 Thesis Thursday- Albert Liu
My name is Albert Liu; I'm currently a senior studying Molecular and Cellular Biology at the University of Arizona.
I work in the lab of Dr. Carol Dieckmann, where we are investigating the function of metabolic pathway proteins in yeast mitochondria, and the possible implications this may have on rare human genetic disease. My goal for the near future is to attend graduate school and pursue a Ph.D. in molecular biology, with an emphasis on genetics or cancer biology. Outside of the lab, I spend my free time reading about timepieces, collecting pens and watching bad horror movies.
---
TAGS
Albert Liu
,
KXCI
,
Thesis Thursday
,
Tucson community
,
U of A
,
UBRP students
,