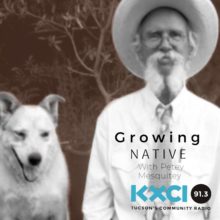 A morning or two after I recorded this show I heard a scaled quail calling, so now I have both species calling starting at dawn and then off and on through the day. It's pretty sweet. Did you know that where the territories of the two species cross you will sometimes find a hybrid? My friends Tom Wood and Sheri Williamson tell me that the hybrids are called scrambled quail. That's cute…and they are.
There is only one species of Marah in Arizona, but there seven species in North America and all in are found in the west and down into Baja.  Marah gilensis is not uncommon, but I hadn't seen it in a while, so yahoo! Oh, a couple common names are big-root or manroot. The latter derived "from the swollen lobes and arm-like extensions of the unearthed tuber". Okay…well it can be a huge root, so the other common name big-root is a no brainer.
Let me see… I told you it's in the Cucurbitaceae and that it's monoecious just like the squash you grow in your garden. So flowers of different sex are found on the same stem. It's like Ozzie and Harriet…separate beds.
A couple notes: these are my photos of the stems, leaves and flowers of Marah. I'll be going back soon to photograph the fruit and gather seed.  If you want to see a photo of the fruit now and are not aware of the nifty SEINet site then here is a link: http://swbiodiversity.org/seinet/index.php
It's a marvelous place to help you identify plants and see photos…maybe by folks you know.
---
TAGS
Cucurbitaceae
,
gambels quail
,
Growing Native
,
KXCI
,
manroot
,
Marah gilensis
,
Petey Mesquitey
,
wild cucumber
,