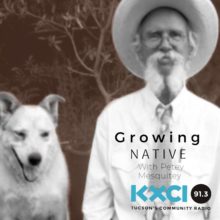 I read from the book  I'm in Charge of Celebrations, but I could have read from many others. If you live in Tucson or in the desert nearby then Byrd Baylor's novel Yes is Better Than No is required reading. I've included a photo of our tattered copy from the late 1970s. It was republished in 1990 and illustrated by Leonard Chana, which makes it a wonderful copy to have as well.
I had a few chances to chat with Byrd over the years and every time was special. In the early 1990s I wrote a radio episode about Fremont wolfberry plants blooming on A Mountain near downtown Tucson. Byrd told me when she heard it she immediately drove to A Mountain to find them. I swooned.
Anyway, I guess that's all. Byrd Baylor loved the desert and lived a long life. How lucky for us we had her. Below is a link to a nice piece by Tony Davis in the Tucson newspaper that may be of interest.
https://tucson.com/news/local/tucson-writer-byrd-baylor-voice-of-the-desert-and-its-people-dies-at-97/article_3f6683a0-d2c6-11eb-bdda-03e27dcace21.html?utm_medium=social&utm_source=email&utm_campaign=user-share
---
TAGS
Byrd Baylor
,
Growing Native
,
Petey Mesquitey
,