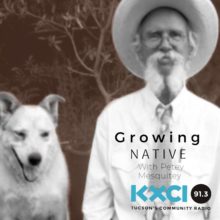 I know that being in the moment or being here now is important, but I confess to spending a lot of time wanting to be there now and I'll be happy to be here now once I get there now or very soon.
Penstemon dasyphyllus is an April, May bloomer and the splash of the blue flowers in the grassland is a wonderful surprise. "Whoa, what is that blue?",  you may shout as you stand in a zany mix of grasses and Chihuahuan desert scrub. "I am so here now!"
The photos are mine and of Penstemon dasyphyllus and also of Houstonia rubra. They were taken on a gravelly slope of the Dragoon Mountains not too far from where I work…well, not that day.
---
TAGS
Dragoon Mountains
,
Growing Native
,
Houstonia rubra
,
Penstemon dasyphyllus
,
Petey Mesquitey
,