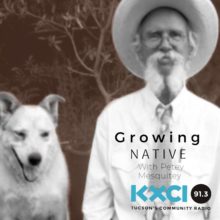 We have gone back to the shrine at the base of the walnut tree a couple more times. It's a beautiful woodland and somehow it feels like the right thing to leave some flowers at the base of that tree.
There are hundreds of places in the deserts and woodlands where humans dreaming of a better life have died. The environmentally devastating wall being built along the wild border of Mexico and the United States will do nothing to deter those dreams.
The photos are mine.
---
TAGS
Growing Native
,
KXCI
,
Petey Mesquitey
,