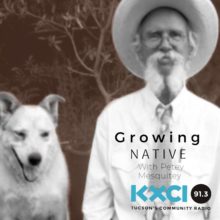 The vast landscapes of the southwest are to die for and every once in a while I capture one with my camera. More and more I remind myself to just take it all in. Shout and exclaim, repeat the words "beautiful" and "oh my" and share with someone you love.
Oh, and try not to lose your cool over an invasive species that shows up. Easier said than done, I know… I know.
American Threefold (Trixis californica) is a great little native and it has been grown and sold in the nursery trade, so I'm not the only one that thinks it's a cool plant. It's a low plant with a woody base and so it's considered a subshrub, but hey, it's a little shrub, so how about "shrubette?"
The photos are mine except for the flower close up. That photo was taken by Patrick Alexander. I like it because it shows the clefts on the lip of the petal (ray). My photos were taken in the Galiuro Mountains and Patrick's photo in the Tucson Mountains.
---
TAGS
American Threefold
,
Growing Native
,
Petey Mesquitey
,
Trixis californica
,