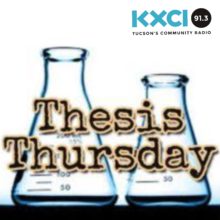 Hello! My name is Meucci Ilunga and I am a Junior at the University of Arizona studying both biochemistry and mathematics. I am originally from Kin Li Chee, Arizona—a small, rural community in the heart of my tribe's reservation—and I arrived here at the university when I was only 16 years old. Since then, in the words of the great Fresh Prince, my life has very much been flipped-turned upside down. Mostly for the best, I might add.
I currently work in the lab of Drs. Christina Laukaitis and Robert Karn at the University of Arizona Cancer Center. I work as a research assistant studying protein genetics in mice. I was initially paired with the duo last year as a part of the Partnership for Native American Cancer Prevention (NACP) research training program. Since then, they've been mentoring me and trying to help me establish my roots as a fledgling scientist. It's been a tremendous honor to work with the both of them and I could not be happier—after all, I am learning how to conduct real science from some of the best mentors Arizona has to offer.
Aside from school and work, I am actually fortunate enough to have some time leftover to be a real human being. I play Piano and take lessons with a great crew at the School House of Rock, I cook a few times every week, and I love playing with code and tinkering with robots. I am not very good at any of things I just listed, but I'm sure I will be someday. You got to start somewhere after all.
There's certainly a lot more to me than that, but I suppose you'll have to catch me around to find out about all the other stuff I've managed to figure out in my 18 short years. There are only so many words a short introduction can fit; I think I'm pretty happy with ones I've chosen.
Meucci