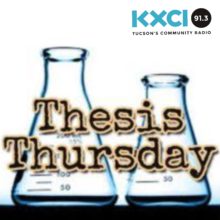 Marissa Heffernan is a senior in the Honors College at the University of Arizona studying journalism, environmental science and French. She grew up in Maine, but has not been defined by state lines. She has traveled all over the U.S. and studied in Paris. An avid learner who enjoys experiencing new places and cultures, she plans to travel as much as possible.
While Heffernan has always loved writing, she did not become interested in journalism until high school, and in college, fell in love with science journalism. She is the science communicator for the University of Arizona Superfund Research Program, managing editor at the Daily Wildcat and produced a documentary on modern zoos in fall 2017.
Outside of living and breathing science journalism, she loves hiking, rock climbing and all winter sports.
this episode of Thesis Thursday was edited and produced by Bridgitte Thum.
---
TAGS
KXCI
,
Marissa Heffernan
,
Thesis Thursday
,