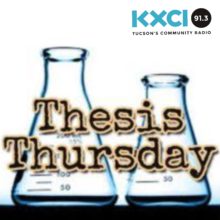 Itzel is a PhD student in Chemical Engineering at the University of Arizona. She holds a bachelor´s and master´s degree in Chemical Engineering from the Universidad de las Américas Puebla in Mexico.
Itzel has always considered herself an environmentalist, and since she was young she wanted to contribute to science, the environment and her community. Although she worked in the pharmaceutical and oil industries, during her master´s degree she worked in wastewater treatment and as a lecturer in the university. That is how she realized that she could contribute to the solution of environmental problems by doing research and teaching, and 5 years ago she came to Tucson to study her PhD thanks to a scholarship from the Mexican government.
Her research is focused on the degradation of emerging contaminants by reactive oxygen species in treated wastewater. The main objective of her research is to develop mathematical models to predict the reaction of these compounds to be used as a tool in the design of wastewater treatment for potable reuse.
Another of her projects is the use of Computational Fluid Dynamics to evaluate the benefits of the use of vegetation to control the transport of mine tailings and reduce exposure of the population to toxic particles and compounds.
Besides working in the lab she enjoys teaching and working with students.  At the UofA she learned about inclusivity and diversity and she always tries to incorporate these principles in her teaching. She worked as a science and languages tutor at CATS Academics for student-athletes and as a teaching assistant in the Department of Chemistry at the UofA. She was also an instructor at the Summer Engineering Academy for high school students.
Itzel also likes to participate in science communication activities when time allows, such as the Tucson Festival of Books and student conferences.
In her spare time she likes running and hiking. She also likes reading and watching independent movies and documentaries.