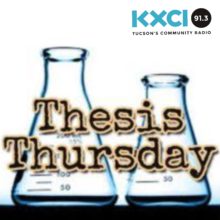 Caleb Kim currently studies Biochemistry and Molecular and Cellular Biology at the University of Arizona. He hopes to work in clinical laboratories related to genomics and molecular diagnostics after he graduates in the spring of the upcoming year. While being a student, he has a wonderful opportunity teaching introductory labs at the UA part time. He also loves the occasional afternoon nap, like the rest of us.
This episode was recorded at KXCI's Congress Street Studio by Bridgitte Thum.
It was edited with assistance from Michelle Ochoa.
---
TAGS
Caleb Kim
,
KXCI
,
Thesis Thursday
,
Uof A
,