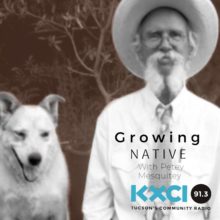 I have had the Gila topminnow going around in my brain for months and this poem may be a work in progress, but I finally put something together for part of a slide show presentation I did in March for Watershed Management Group…one of many excellent organizations working on and about water issues in our borderlands region…anyway, lucky you, now you get to hear it.
The scientific name of the Gila topminnow is Poeciliopsis occidentalis occidentalis and though I so wanted it to mean "sweet little fish," it translates to "mottled in appearance" and "of the west." The extra occidentalis means it's a subspecies, the other subspecies being P. o. sonoriensis or Yaqui topminnow. Now you know.
I did my initial homework in the book Fishes of Arizona by W. L. Minkley. It's an Arizona Game and Fish publication from 1973. The photo of the female and male topminnows (males are considerably smaller) is taken from the internet and courtesy of Bruce Taubert and the AZGFD. And finally, below is a link to the Sonoran Institute that may be of interest to you.
https://sonoraninstitute.org/2017/gila-topminnow-return-tucson/
---
TAGS
Gila topminnow
,
Growing Native
,
Petey Mesquitey
,
Poeciliopsis occidentalis
,
Santa Cruz River
,