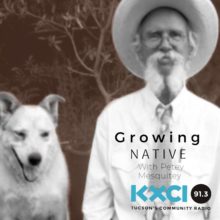 There are 13 species of oaks found in Arizona and they range from 3,000 to 8,000 feet in elevation across the state. The only one I haven't seen in habitat is the Mexican willow oak (Quercus viminea) found in its northern most range in the Patagonia Mountains. That sounds like a quest to me.
               Though I've seen some Arizona native oaks planted in Tucson, I don't think they're very happy in the low desert of Tucson. If I wanted to try an Arizona native oak in that hot desert, I would go with scrub oak (Quercus turbinella). It's a shrubby oak, but can be trained up to a nifty little fifteen-foot evergreen tree.
The most popular oaks found in the urban landscapes of Tucson are non-natives like the southern live oak, the Texas red oak, and the cork oak (Okay, I confess that I love the cork oak and I've always thought it would be fun to have a cork oak farm to go with all the vineyards in southern Arizona. Unfortunately, I should have started 25 or 30 years ago to have some corks by now. Oh well). The afore mentioned southern live oak is the state tree of Georgia and it makes me irritable that some of the downtown sidewalks of Tucson are lined with it. The phrase, "sense of place" comes to mind. Grrr!
But listen, if you live at 3,500 feet or higher why not plant a native oak or two or three. The non-native oaks will not attract as many cool species of insects as a native, because they didn't evolve together. We can check back in 20,000 years or so to see if that has changed. Let me know. Anyway, many of the native oaks are found not too far above the Sonoran Desert, so a hike in the uplands or up into the sky islands to see and celebrate these trees of life might be fun.
The book I refer to and quote from is Bringing Nature Home by Douglas W. Tallamy. I recommend it. The photographs are mine of an Emory oak (Quercus emoryi) and its acorns. It's a favorite oak of mine, but I'm guessing you knew that.
---
TAGS
Fagaceae
,
Growing Native
,
oaks
,
Petey Mesquitey
,
Quercus emoryi
,