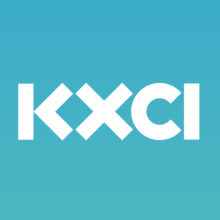 Thanks for visiting KXCI's Locals Only – Tucson, AZ.
We're coming at you this week with another live, in-studio performance from Night Weather. They will be joined by Matt Milner live in Studio 2A for an hour of music and conversation.
A little bit about Night Weather
---
Night Weather (formerly Infinite Souls) is an Indie-Pop Duo from Tucson, AZ. In their first year as a band (2017-2018), they were featured on Downtown Tucson's Second Saturday main stage, The Great Cover Up, and were added into the rotation on both of downtown Tucson's local indie radio stations. They spent the rest of their time touring and playing shows, shooting music videos, and creating live loop songs using whatever inanimate objects they found. With a new name, multiple singles in the works and many exciting developments brewing behind the scenes, Night Weather is a band to keep on your radar. Their story:
Mike & Britt met at an indie musician showcase in Colorado, competing against each other. They ended up falling in love and settling down in Mike's home town of Tucson, AZ. After writing and performing separately for years with multiple different bands, they struggled to find the musical voices they truly envisioned. Instead of continuing on separate musical paths, they decided to drop everything and form a band in 2017 to pursue their creative dreams together.
---
Live Audio & Video Engineering by:
Duncan Hudson
Ben Holman
Wallace Schubach
Walter Harrington
Bjorgvin Benediktsson
Post-production editing and web page by:
Dominic Castelli
Remember to visit the Locals Only website weekly to catch another great performance by one of our great local musical artists. 
---
TAGS
KXCI
,
Local Music
,
Locals Only
,
Night Weather
,
Studio 2A
,