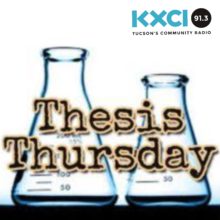 The 31st Annual Undergraduate Biology Research Program Conference will take place on Saturday, January 25, 2020 from 10:00am to 3:00pm in the Environment and Natural Resources 2 Building (1064 E. Lowell Street) on the University of Arizona main campus.
Join us for a keynote talk by Oscar Serrano, MD from 10:00am – 11:00am. From 11:00am – 2:00pm, explore students' research posters, the Symbiosis art exhibit, science outreach activities for the whole family, and enjoy refreshments. Awards and closing remarks will be given from 2:00pm – 3:00pm.
The Annual UBRP Conference is free and open to all interested!
---
TAGS
KXCI Community Radio
,
UBRP Conference
,
Undergraduate Biology Research Program
,