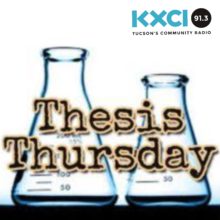 This week we are talking with Jennifer Cubeta.
Jennifer is a University of Arizona and UBRP alumna who graduated from UA in 2000 with Bachelor's degrees in biology and science education. She has been involved in science education ever since. After teaching life science at the middle school level for three years and serving as an academic advisor for UA's Department of Molecular and Cellular Biology for ten years, Jennifer became the Assistant Director of UBRP in 2013 and then the Director of UBRP in January 2018, where she continues to enjoy helping college students learn science through research. In her spare time, Jennifer loves to spend time with her family, cook, travel, and serve as a musician at her church.
About UBRP: The University of Arizona's Undergraduate Biology Research Program (UBRP) is an educational program designed to teach students science by involving them in biologically-related research. Students are paid for their time in the lab or field, where they develop an understanding of the scientific method, receive a realistic view of biological research, and are mentored by faculty.  They also acquire the tools necessary to be successful in post-graduate studies in biology should they choose careers related to biology or research. Students begin UBRP with a full-time summer research apprenticeship, and then have the option to continue in UBRP on a part-time basis during the academic year, to accommodate classes.
For more information about the UBRP Conference:
https://ubrp.arizona.edu/conference/33rd-annual-conference
---
TAGS
KXCI Community Media
,
Thesis Thursday
,
UBRP
,
UBRP Conference
,
University of Arizona
,