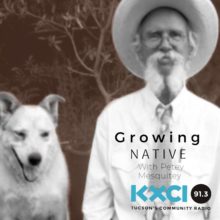 I suppose the thinking is that any wildflowers blooming along the side of the road will beautify that road and who cares what's in the hydro-seed mix that is laid down after road construction. It could be just me that thinks perhaps some thought should go into what seed is in a mix that's to be sprayed along the sides of the highways. I'm sure the argument is that at least they are native, but I want to shout, "Not native to this area you nincompoops!"
Gaillardia pulchella…in my excitement I called the species pulchellum…that's not right…anyway, it's an annual wildflower found all over southeastern Arizona from 3,500' to 5,500' in elevation. It has been in the nursery trade for many years and so you can find many colorful cultivars to plant and play with, and yes, they are fun in our personal habitats, but please not along the sides of our roads in the desert or uplands and that have folks saying, "Wow, I didn't know that grew around here." Well, it didn't. The desert is beautiful my friends and needs no embellishment.
The photos are mine and of our "local yokel" native found around our home. I'm gripping that bundle of stems to hold them still, because the wind was howling.
---
TAGS
blanket flower
,
firewheel
,
Gaillardia pulchella
,
Growing Native
,
Petey Mesquitey
,