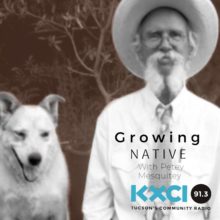 Encelia farinosa (brittle bush, incienso) loves rocky hillsides and gravelly desert. And though this native shrub has a large range showing up in the Mojave and Great Basin Deserts, for me personally the bright yellow flowers atop the silvery foliage shout, "Sonoran Desert!"
If you're interested in ethnobotany (and why wouldn't you be?) this is a good plant to add to your journal with its many uses, from chewing gum to incense. And good native plant nurseries grow and sell this wonderful wide ranging native, so plant or 2 or 3 in your personal habitat to remind you that, "the desert is beautiful." Yeah it is.
I couldn't find any digital photos  of brittle bush in my collection  (35 mm slides, yes, of course), but there are numerous photos on line. Well, of all things, I found and really liked these pics at at a web site about the Mojave Desert called BirdandHike.com. I thank them.
---
TAGS
brittlebush
,
Encelia farinosa
,
Growing Native
,
incienso
,
Petey Mesquitey
,