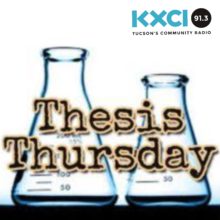 Thesis Thursday is produced at KXCI, with two hosts, and two new episodes each week.
As we are currently in the midst of our Fiscal Year End Campaign, it's time to highlight the magic that is Thesis Thursdays. We created a special episode that looks behind the scenes to reveal what this program is really up to. It's all about supporting the young brilliant students at The University of Arizona. Helping them to build communication skills, and confidence.
This is perfectly serving our mission, which is to connect the community. We are also proud to offer this program on wider platforms such as PRX, and itunes.
Our October episode featuring Tania Rodriquez was recently integrated into a science show  on WFMP 106.5 FM in Louisville, Kentucky called  "Bench Talk the Week in Science" It aired three times from September 2 to September 4, 2019.
It is with the generous support of our listeners that we are able to make this happen.
Thank you!
The Thesis Thursday Team:
Monica Ramierez Andreotta has brought bilingual mini programming to KXCI.
Many episodes of Thesis Thursday are being recorded in espanol thanks to her.
To find out more about Monica, check out Project Harvest
Bridgitte Thum is KXCI's newest staff member.
She is the engineer/producer/host of a variety of programs and projects at KXCI including this one.
Espanol episodes feature production assistance from Elva De la Torre.