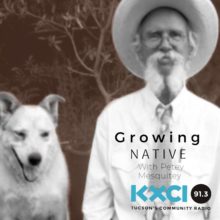 Acaciela angustissima is the former Acacia angustissima. I suspect the name change is about priority.  The plant already had a published name and then someone comes along and gives it another name. No can do according to the International Code of Nomenclature. Priority rules and many plants have been given "new names" using their old names. Well, I need to accept these changes and get used to it. No sense in being a stick in the mud. I can do this.
Acaciela is the diminutive of Acacia, so it's a little acacia and acacia is from a Greek word for a sharp point referring to the spines found on so many of the species. The specific epithet angustissima is a superlative meaning very narrow, referring to the tiny narrow leaflets. And I almost forgot to tell you that it is in the pea family, Fabaceae, but I bet you knew that.
It does look like an attractive woody fern and even Arizona Flora says white ball acacia is "a very handsome plant with feathery foliage," and that it is easily cultivated.  Well, yes and yes, and I am tempted to grow some. I can sell them at the Bisbee Farmers' Market next spring. I'll be rich!
A couple notes: the photos are from our hike in the Dragoons. Well, it was several hikes on the same day. What happens is, you hike, then drive to another location where something catches you eye and you're off on another hike.  And for my zoologist and plant geek friends, I found the neatest book about Latin names called, The Naming of the Shrew, by John Wright. A good fun read that has helped me immensely in understanding the scientific naming of flora and fauna.
---
TAGS
Acaciela angustissima
,
Dragoon Mountains
,
Growing Native
,
John Wright
,
Petey Mesquitey
,
white ball acacia
,