The Suffers at Hotel Congress
Ten-piece Gulf Coast soul band The Suffers mixing vintage R&B, classic rock & roll, reggae, country, and hip-hop.
*CLICK FOR CONTEST RULES* The deadline to enter is through noon May 18th.  The winners of (1) pair of tickets will be selected at random (one entry per person). Ticket winners will be put on the guest list and must present ID at the venue box office on the night of the show to gain entry. Winners will be notified to the email address entered in the contest.
The Suffers
Live at Club Congress
Thursday, May 19 – Doors at 7:00 PM – $15 / $18 – all ages –  TICKETS
Ten-piece Gulf Coast soul band The Suffers mixing vintage R&B, classic rock & roll, reggae, country, and hip-hop.
THE SUFFERS
There is a contagious and combustible energy every time the eight-piece band The Suffers steps on the scene. NPR's Bob Boilen attributes the band's allure to their "Soul, straight from horn to heart." He adds, "This band is on fire when it's in front of an audience…but the intensity of their shows are also captured in the studio." Following The Suffers' electrifying late night TV debut on Letterman in 2015, David Letterman exclaimed, "If you can't do this, get out of the business!" There is something undeniable about The Suffers (whose name is a reference to the 1978 Jamaican film Rockers starring Leroy "Horsemouth" Wallace, Jacob Miller and Burning Spear, among others), that instantly hits home with their audiences. "We make music for all people," says lead vocalist Kam Franklin. "At this point, we've played all over the world and one thing is certain – if the music is good, the people will enjoy it." Since 2011, the H-Town heroes have been on a steady grind and have no plans of stopping.
The Suffers exploded onto the scene in 2015 with their dazzling EP Make Some Room, which was followed by their critically heralded self-titled debut in 2016. The Suffers' released their latest record Everything Here on Shanachie Records July 13, 2018. Everything Here is the band's most bold statement yet. Lead Singer Kam Franklin states, "Our hope is that our fans walk away feeling empowered, resilient, and inspired to live a better life."
Guitarist Kevin Bernier says, "Everything Here, as a whole, explores the many aspects of who we are as people through songs. We've had crushes on people, we've had our hearts broken, and we've moved through all the difficult times so that we can experience the joyful moments." The Suffers have got everything you need and there's no need to look further – a heaping dose of soul, a dash of reggae, a splash of jazz, a pinch of salsa, a hint of rock 'n' roll and a dollop of hip hop and funk – and that is just a few ingredients simmering inside their magical Gulf Coast soul.
"Houston has played a huge part in making me who I am and introducing our music to the masses, and for that, we are forever grateful." The Suffers have played sold out shows in Japan and Latin America, turned out audiences at the Newport Folk Festival and Afropunk Festival and made believers of just about anyone who has experienced their live shows. "We're a testament to teamwork and camaraderie resulting in things working out even when the odds are against a positive outcome," says drummer Nick Zamora. "The wonderful thing about music is that it is ultimate universal communication," reflects trumpeter Jon Durbin.
The band is working on their highly anticipated follow up to Everything Here, and will release new music in the Fall of 2021.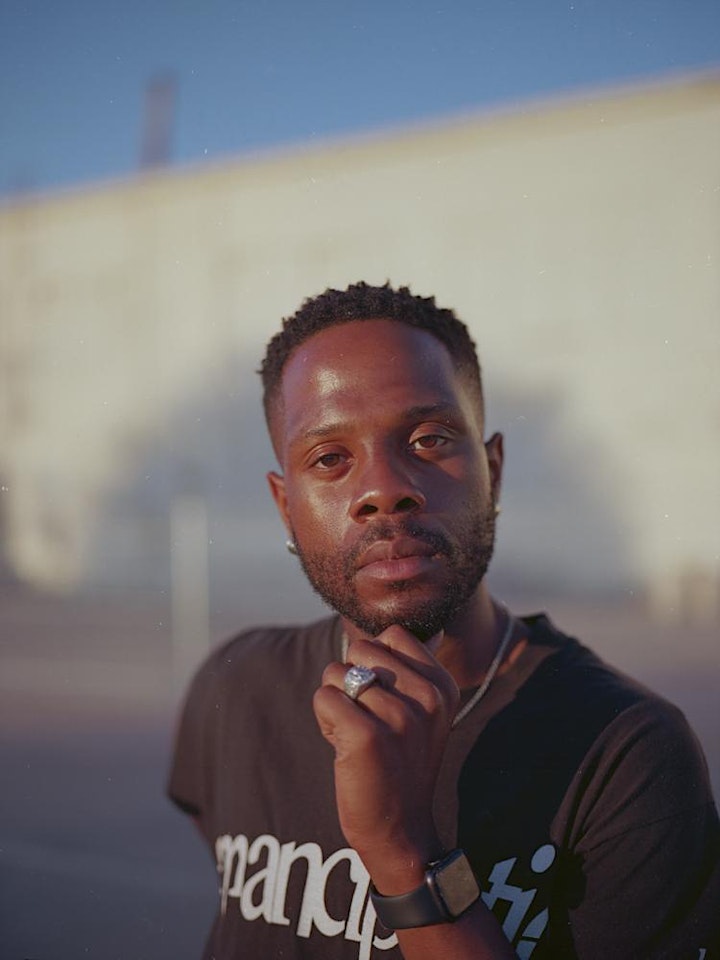 Fat Tony
Somewhere between DJ Screw and Bad Brains, De La Soul, and Scritti Politti sits Houston's native son, Fat Tony. For the last decade, Anthony Lawson Jude Ifeanyichukwu Obiawunaotu has been everywhere: from star-making turns on the first A$AP Rocky mixtape to hosting shows on Viceland and Super Deluxe, to co-founding a DIY culture magazine to playing every worthwhile rap party in America and burning the stage down every single time. A singular and experimentally-minded rap artist adept at both traditional regional styles and indie pop, hardcore thrash, and melodic candy-painted bangers. He is punk in the platonic sense of the word: experimental and subversive, but also funny, whimsical, and virtuosic.
Over the course of more than a half-dozen LPs and countless other short-form gems and collaborations with everyone from Das Racist to Bun B, Fat Tony has reimagined and blurred the boundaries of hip-hop. There are a few things you can depend on in this schizophrenic world. About once or twice a year, Fat Tony will drop an album, and it will sound like nothing that he has done before. There's a spirit of creative restlessness and intelligence that runs through his deep discography. He is a national treasure, one of those rappers destined to seem forever underrated until you ask around and realize that everyone in their right mind likes Fat Tony. He is the Whataburger of rappers: if you know, you know.
Raised in Houston's historically black and culturally radical neighborhood, the Third Ward, Tony's mom, and teachers educated him from the get-go about how this was the regional cradle for the Black Panther Party — and how BP hero, Carl Hampton, was murdered by the Houston Police Department. It was an environment where social awareness and Pan-Africanism were always around and celebrated. His childhood home was filled with records—country music, King Sunny Adé, and Jimmy Cliff from his father's collection, his mother's classical music, rock, and soul, and his granny's gospel. Then as a teenager, empowered by the internet and his discovery of independent artists like E-40, Bikini Kill, and Bad Brains, Fat Tony began recording and distributing his own music. Heavily influenced by renowned Texas rappers like UGK and Scarface, Fat Tony started playing and organizing live shows at a time when there wasn't much of a scene for young artists in Houston. He started booking bands of all types from all over, hand-making flyers for the shows and mailing them to addresses nabbed from the Carnegie Vanguard High School student directory.
His dedication to Houston's rap scene earned him Houston Press Music Awards' "Best Underground Hip Hop Artist" in 2008, 2009, 2010, and 2013. Primed for more national audiences, Fat Tony began taking his music on tour and collaborated with more artists around the country. His sonically unpredictable and emotionally vulnerable music has garnered praise from Pitchfork, The Fader, and Noisey. His achievements in rap have pushed him out of his comfort zone into other performance and hosting opportunities on TV and the Internet
– Jeff Weiss