Prairie Home Companion Meets Grand Ole Opry with a Desert Twist
-The TUCSON OPRY, Memorial Day Monday, May 30th at Hotel Congress.
Doors at 6, show at 7. The first ever Tucson Opry brings a true "opry style" variety show experience with a decidedly regional flavor. Hosted by Chris Brashear and Peter  McLaughlin, the inaugural Tucson Opry will showcase great local, national, and international touring, cowboy poetry, a community spotlight, and likely a surprise or two.
HOSTS, Chris Brashear and Peter McLaughlin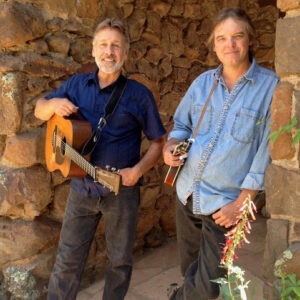 Chris Brashear and Peter McLaughlin combine three decades of musical camaraderie with a love of the American southwest and "the Old Pueblo." On stage or running rivers, hiking slot canyons or climbing desert mesas, these two Tucson trailblazers always add stellar picking and great songs to the journey.
The Small Glories
www.smallglories.com
Roots powerhouse duo the Small Glories are Cara Luft and JD Edwards, a musical tour-de-force partnership planted on the Canadian Prairies. With stage banter striking a unique balance between slapstick and sermon, these veteran singer-songwriters have a way of making time disappear, rooms shrink, and audiences feel as if they are right there on stage. Their music is welcoming in terms of subject, folk-pop melody, and instrumentation—songs of love, loss, and environment, delivered with soaring, interwoven vocals on various combinations of stomping clawhammer banjo, guitar, and harmonica. The duo has received multiple Canadian Folk Music Awards and was a 2020 JUNO Award nominee for traditional roots album of the year
Whitney Rose
www.whitneyrosemusic.com
If you love classic country you will want to catch a Whitney Rose show. With a unique and soulful voice, Austin's Rose will have you swaying to her perfectly blended pop and country retro music. Her influences are Johnny Cash and Hank Williams and listening to her will transport you back in time to Nashville Studios in the late 1950's and 60s. Her most recent album released in 2020 was titled, "We Still Go to Rodeos". Her album, " Rule 62" was coproduced by The Maverick's Raul Malo and was rated an All Music Best Albums of 2017, Wide Open Country 25 Best Albums of 2017, and Yahoo! Music Best Country Albums of 2017, among other honors.
LOCAL PERFORMANCES and features
Hot Club of Tucson, Gypsy Jazz – Matt Mitchell leads the Hot Club, which will serve as the house band for the night
Salvador Duran – (Calexico, Sergio Mendoza Orkestra) The popular Mexican troubadour is one of Tucson's gems, his evocative baritone brings the corridos of the borderlands to life.
Richard Tavenner, Cowboy Poet – Looking all the part of a desert Sam Elliot, Richard's poetry speaks to region, and cowboy ethos that perfectly complements the evenings proceedings.
The Arizona Trail, Matt Nelson, Executive Director – the community spotlight focuses on one of Southern Arizona's most underrated, and interesting outdoor adventures.