Spend a late Sunday afternoon in the glow of Blues and BBQ.
HANS OLSON is a veteran musician with over 50 years in the music business. He began his career as lead singer in a Blues/Rock band in Southern California. By the 1970's, Hans had developed a  unique and powerful style.  He plays an amplified acoustic guitar and harmonica and is known as one of the best "harp-in-a-rack" players in the world.  Hans'  powerful voice is comfortable singing many styles of music ranging from mellow folk ballads to growling boogie blues.  Olson has released over 17 albums of original material and many of his songs have been included on soundtracks for TV shows including: The George Lopez Show, Ghost Whisperer, Criminal Minds, It's Always Sunny in Philadelphia, Saving Grace, Justified and many more.  Two songs were featured in major motion pictures in 2015, "FREEHELD" starring: Julianne Mooreand Steve Carell, and "ROCK THE KASBAH" starring Bill Murray and Bruce Willis.
Hans toured the world for 35 years until retiring from the road in 2001. He has played all over the United States and Canada. His tours also included France, Germany, Belgium, Netherlands, Luxemburg, Austria and Slovenia.
He has opened for:  MUDDY WATERS, JOHN LEE HOOKER, WILLIE DIXON, BB KING, BO DIDDLEY, STEVIE RAY VAUGHAN, CHUCK BERRY, TOM WAITS, Z.Z. TOP, ALLMAN BROTHERS BAND, PAUL BUTTERFIELD, JOE COCKER, BONNIE RAITT, ROBERT RANDOLPH, LEON RUSSELL, SONNY TERRY & BROWNIE McGHEE, GEORGE THOROGOOD, JOHNNY WINTER and more…
  www.hansolson.net
Tom Walbank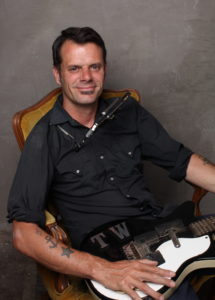 Englishman Tom Walbank was born in the town of Wells, Somerset in 1969. Raised in Totnes, Devon, he discovered blues in his teens, beginning with harmonica (which remains to this day his main instrument).
Tom's soulful harp playing is influenced by Sonny Terry, James Cotton, Sugar Blue, Mark Feltham and Rory McLeod. He plays guitar in the style of John Lee Hooker, Muddy Waters, Lightnin' Hopkins, Son House and Big Joe Williams. He has toured both in North America and in Europe.
His passion for blues music and culture has extended to his second artistic passion, illustration. With over 200 portraits and drawings produced Tom has self published a pictorial anthology of Blues music, screen prints, t-shirts and paintings. 
Tom has recorded over 20 albums and collaborated with musicians such as- Phil Wiggins, Arthur Migliazza, Asie Payton, Bad News Blues Band, Austin Counts, Howe Gelb, Calexico, Gabriel Sullivan, Naim Amor.  In 2009 he was inducted into the Arizona Blues Hall of Fame. He has shared the stage with the likes of B.B. King, Charlie Musselwhite, Jimmie Vaughan, Lazy Lester, Kim Wilson, Canned Heat and many others.
Tom's latest CD, Magnolia Blues, will be on sale at this event.